Spotify Ads allows charities to create audio, image and text ad campaigns on the Spotify platform.
Spotify has tens of millions of users in the UK, and can reach audiences in specific contexts based on their listening patterns.
We can run both brand awareness and engagement campaigns on the platform to increase brand awareness and engagement objectives.
You can also repurpose existing radio ads content into audio Spotify ads. That gets you a higher return for your existing investment in audio production.
Find out how how Platypus used Spotify to support people affected by dementia.
Check out this example of a charity Spotify ad from Dementia UK.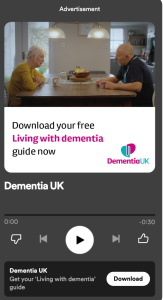 How we do Spotify campaigns
We identify your charity's goals and target audience – this helps us identify the content to create and the most effective advertising formats for raising awareness of your charity.
We develop a content plan – this outlines the types of audio and image content we'll use in the campaign. We align these with your charity's goals and target audience to create engaging content.
Create the ads – We make sure that the ads are visually and aurally appealing and comply with your charity's brand guidelines and tone of voice.
Launch the campaign – it's launch day! We do this through Spotify's ad platform so you always have access to it too.
Optimise the campaign – We then move to optimisation to get the best results for your budget. We review metrics like reach, engagement, clicks, and adjust the ads and targeting.
Report – we report on all the important metrics of your campaign, including delivery metrics (reach, impressions, frequency) and performance (clicks, click through rate, ads played to 25%, 50%, 75% and 100%). The report also includes a summary of the key findings, insights from the campaign, and recommendations for future campaigns. This report can be shared with your wider team to help inform future campaigns.
Why work with us?
We have a close working relationship with Spotify which gives us access to dedicated support from their team for your campaign.
We have lots of charity campaign experience. We run advertising campaigns for charities on Facebook, Instagram, Google Ads, YouTube, Google Display Network and more. So we know all about online advertising for charities.
We use specialist platforms to manage your campaigns. They help us get the best results for your campaign.
We support and guide you throughout the campaign. So you'll get an enjoyable campaign as well as a successful one.
Email [email protected] to find out more about how we can help your charity with Spotify campaigns.