Imagine you're moving house.
You've been in your house for years. You've got a loft full of old DVDs, computer games for consoles that don't exist any more and things you do actually want to keep.
You've got a new house, and the moving date is mere months away.
You have two options to move.
The first is a gold service. The friendly team come to your house, talk you through how they're going to move, asks what you want to keep and what you can take to the dump. They don't just pack it all up either – they unpack it at the other end so everything is in the right place in your new house. Lovely!
The second is a bronze service. You don't get to meet the movers. They're not really interested in moving the right things. They're not concerned about what gets broken in the move. They dump your boxes in the new house and move on to the next house (they have loads to do).
Which would you choose?
It's the same choice facing charities right now. Either plan a gold star removal service to get you from GA3 to GA4 or let Google move you across automatically on 1 July. Fingers crossed that nothing breaks in the move, but there's a good chance it will.
Well, the main reason is that you have to!
On 1 July 2023, your UA willl stop processing data, and your new GA4 will be the only Google Analytics in town.
With its sleek, modern interface and easy-to-use tools, you'll be able to see all your data in a much clearer way.
This makes it easier to understand what's working and what's not, so you can make better decisions about how to improve your website.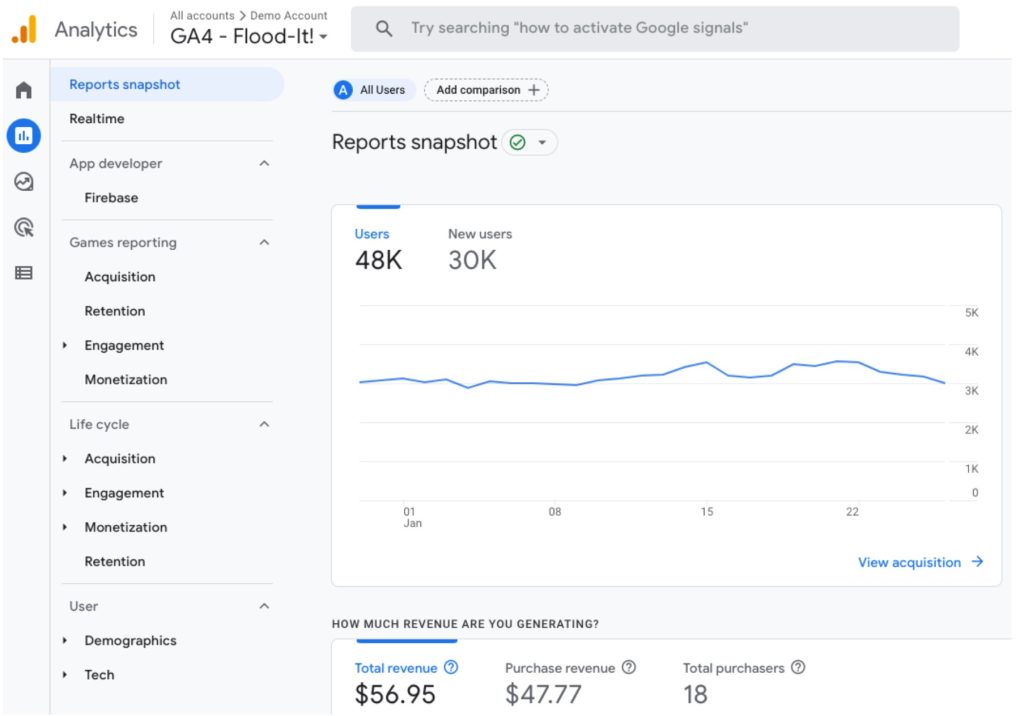 It's more powerful than UA
With GA4, you'll be able to track all sorts of events on your website.
The things like sessions and pageviews from before are all events in GA4.
There are even custom events that you define yourself, based on specific things that happen on your website.
This means you'll have a much better understanding of what's happening on your site, and you'll be able to use that data to make your site even better.
It can use machine learning for better attribution
Attribution models give you an accurate picture of the credit you should be giving your marketing channels for raising money and awareness online.
GA4 has a data-driven attribution model built in. It uses machine learning to assess a whole heap of data points that aren't available in UA. That gives you a much more accurate picture of what's working for your charity online.
Using the data-driven attribution model can stop you from making decisions like shutting down spend on your shopping campaigns because they don't look like they're getting much in the way of results. You'll see what part they really play in your marketing and potentially stop you from making expensive mistakes.
GA4 will also compare data from last-click attribution to the more accurate data-driven model to see how big a difference there is.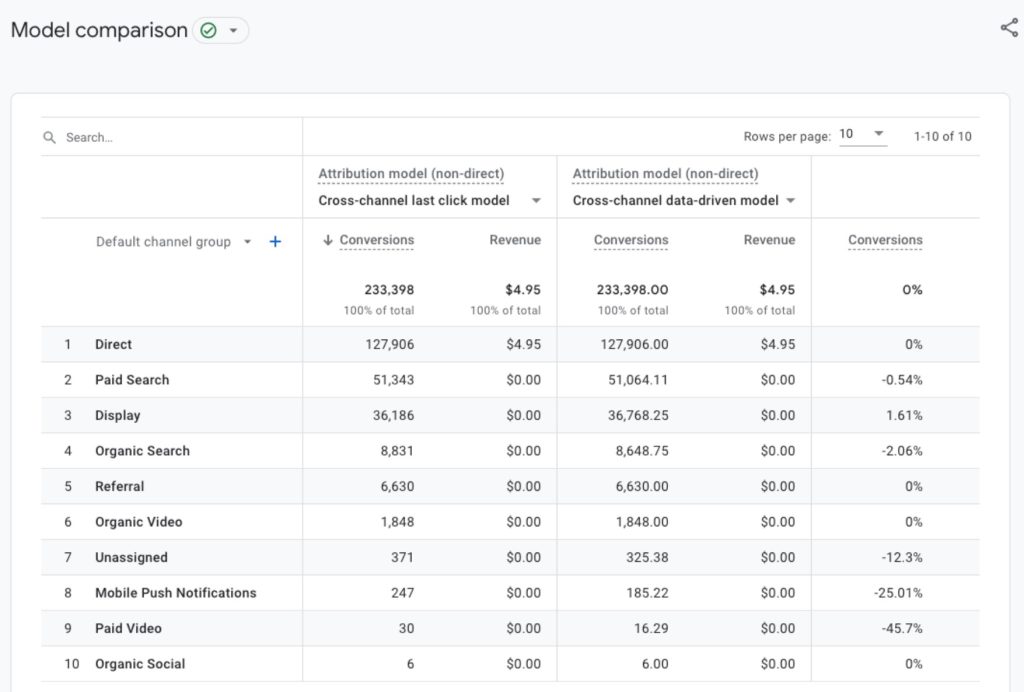 If you don't migrate to GA4 yourself, Google will migrate for you.
It'll do an auto-migration to GA4 based on 12 steps it considers important.
Sounds great, right? It might not be.
That's because Google will configure your settings automatically for you instead of you migrating them for yourself. It's the bronze moving service done by movers who aren't moving things how you want them to.
It might mess up a lot of things like turning on Google Signals, migrating unused conversions, and audiences, and migrating conversion and audience bidding/targeting in Google Ads.
Not great!
You can opt out of auto migration. Here are Google's full instructions on how to do that.
How to set up the GA4 tracking
While GA4 is easier to use and has a more user-friendly interface, making the switch from UA does require some back-end setup.
Here are the steps that all migrations need to follow.:
Create a GA4 property
First, you'll need to create a GA4 property in your Google Analytics account. This will allow you to start collecting data from your website.
Install the GA4 tracking code
Once you've created your GA4 property, you'll need to install the GA4 tracking code on your website. This code is slightly different from the UA tracking code, so use the correct code for GA4.
Configure your GA4 tracking
After you've installed the GA4 tracking code, you'll need to configure your tracking to make sure you're collecting the data you want. This includes setting up events, custom parameters, and conversion tracking.
Test your GA4 setup
Finally, once you've completed the setup process, you should test your GA4 tracking to make sure everything is working properly. This includes checking that your tracking code is installed correctly, that your events are firing, and that your conversion tracking is working as expected.
Optional – Back up your existing data
If you've been using UA for a while, you may have valuable data you want to keep. To ensure this data is not lost, you'll need to store it. This is a technical process, so you may need to get help from an analyst with experience in web analytics through a tool like Google Analytics Sheets Addon or if you have a lot of data you still want to report on, BigQuery.
By following these steps, you can make a smooth transition from UA to GA4. And once you're up and running, you'll be able to take advantage of all the great features and benefits that GA4 has to offer.
You've got three options if you want to move to GA4 properly:
Do it yourself – If you've got the skills, you can move over yourself using Google's documentation. You really need the skills, though. Things can break. We don't recommend this option.
Get your web agency to do it – if Analytics is part of your SLA, get them to set everything up for you.
Outsource it – ask a specialist agency (like Platypus!) to plan your migration. They'll work with you to make sure it's all planned out and get you the gold star service.
Email Matt at [email protected] if you'd like us to migrate your charity over to Google Analytics 4.