What Dementia UK do
Dementia UK provides practical help and emotional support to thousands of dementia patients and their loved ones every year.
We've been working together for over two years now. We've worked on a variety of digital campaigns and strategic projects across the individual giving, community, legacy and challenge events fundraising teams.
The virtual event recruitment challenge
One of the successful campaigns we work with them on is to recruit participants for their virtual Do Your Distance challenge.
Participants choose their own distance to run, sign up via an embedded JustGiving microsite, and then get a stewardship email journey that helps them complete the challenge.
The market for virtual challenge events was crowded, as so many charities had moved to this model during the pandemic. So the challenge was to stand out from the other events, and sign up fundraisers who could support Dementia UK. 
What Platypus did
We started by creating an advertising and audience strategy. We did this by drawing on our experience of similar campaigns for Dementia UK, and our in depth knowledge of what their most responsive audiences are.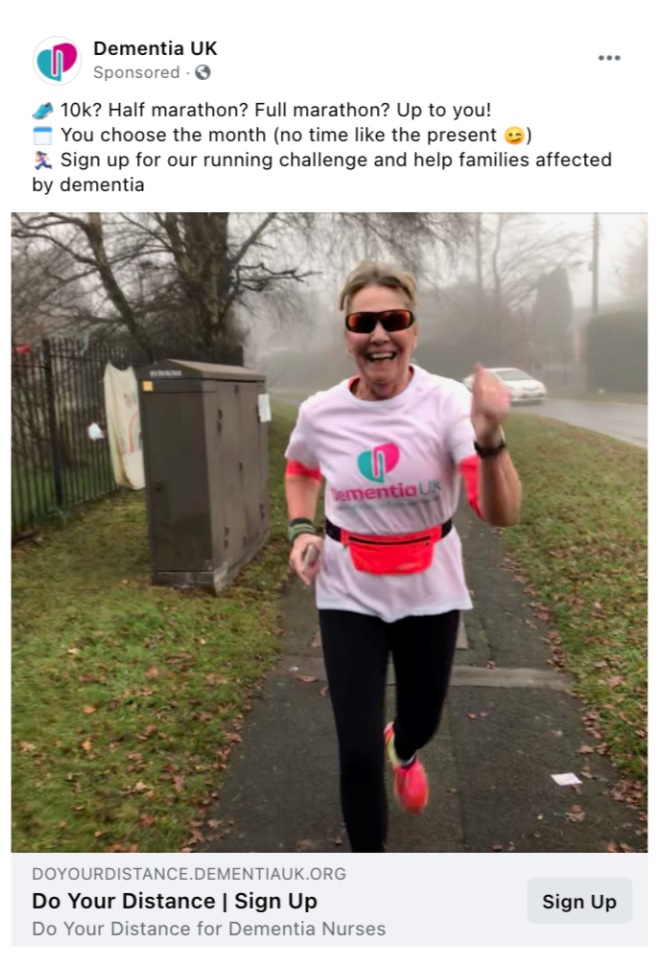 Then we worked with Dementia UK to create engaging ad copy that would encourage their audiences to sign up to Do Your Distance.
Finally, we set up the ads in Facebook Business Manager and launched the first burst of activity.
Results 25% better than target
In the initial burst of activity, we got 268 signups for Do Your Distance. 
We got this cohort of signups at a CPA that was 25% lower than their target. This means that their budget will go further and raise even more money to support people with dementia across the UK. 
One of the reasons for this success is our long-term relationship with Dementia UK. We have worked together for nearly two years. Each campaign leads to better learnings about what works for Dementia UK. Those learnings lead to lower CPAs and higher volumes raised for the charity. 
We have now moved recruitment for Do Your Distance to burst-led rather than one off or ongoing. This allows the charity to balance recruitment against the other activities on their fundraising calendar, and creates the long term foundations for effective and sustainable recruitment.