How often do you find yourself frustrated that you are driving plenty of traffic to your website, yet people aren't donating, or signing up for an event, or doing whatever it is you want them to do on your site?
It's a common problem amongst charities – plenty of visitors, few conversions. So why is this?
Quite frankly – your landing pages are rubbish.
Ouch. Ok this isn't strictly true, but you may be asking too much of them. Each webpage is being asked to be a one size fits all page – and that's not what you need when trying to get someone from a Facebook ad to donate a tenner or someone who clicked a sponsored link on Google to sign up to volunteer for you.
So what can you do?
Easy. Create dedicated landing pages for your campaigns, focused pages without the usual distractions of menus, social media feeds and everything else websites often come packed with.
We recently worked with Papworth Trust and helped them get contact details for hundreds of potential service users by doing just that.
So what did we do?
Papworth Trust has a farm in Wales where they provide supported holidays for disabled people, called Kerry Farm. They needed to generate more enquiries and bookings for Kerry Farm and were struggling to do so.
Like most charities, they had a Google Grants account. We all like free money, so this seemed like the most sensible way to drive traffic to the website.
We then set about creating the landing pages.
Now, one of the biggest problems with landing pages is not truly meeting the user's needs. Too often, they present information about the services or product on offer, rather than directly addressing the need of the person visiting the page.
Here's an example.
Meet Caroline. She has a 10 year old son called Joe who has autism. They want to go on holiday but she doesn't want it to be stressful. She goes to Google and types in "holidays for children with autism". She see the following ad and thinks "Ooh perfect, a farm sounds nice and relaxing and they offer support too":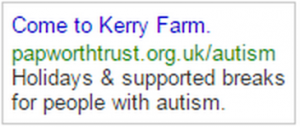 Now the original landing page would take Caroline here: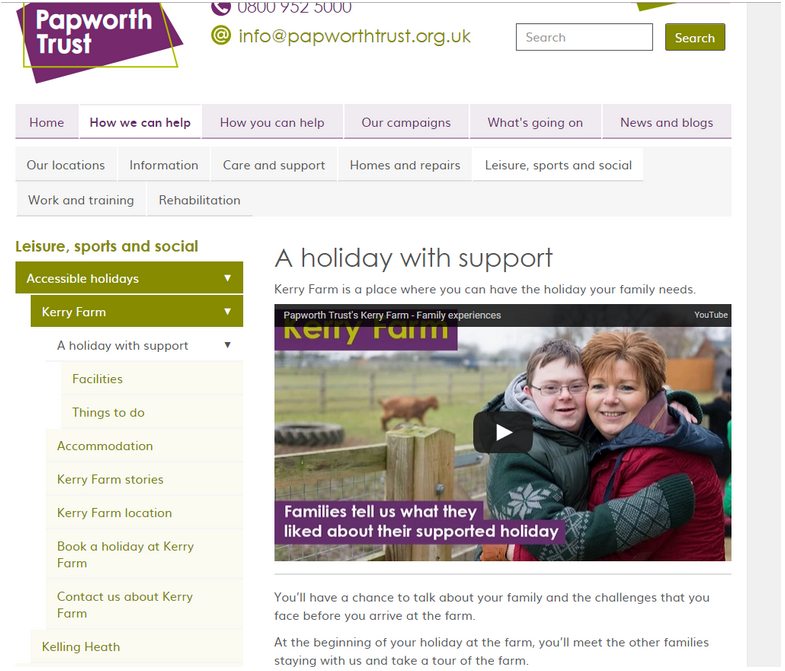 It's not a bad page, and it has loads of information. But will it do what Caroline needs?
She can't immediately tell if it's a holiday for disabled people, let alone whether it will be right for people with autism. Caroline would have to spend a fair bit of time watching the videos and reading multiple pages to know whether this is what she was after.
Chances are, Caroline won't bother and will navigate away from the website entirely.
This is the new page we created: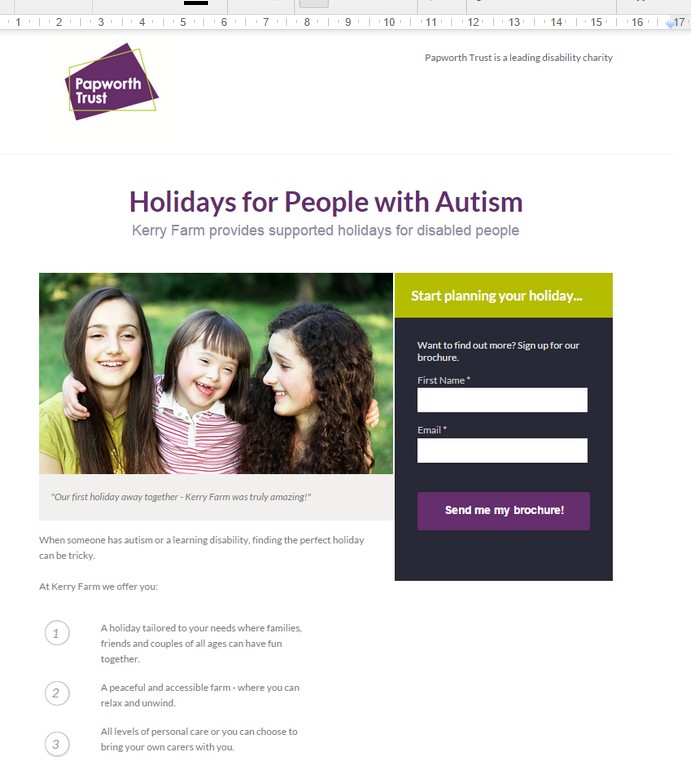 This new landing page went on to perform really well. It got a 20% conversion rate, meaning that one in five visitors to the page sent Papworth Trust their email address requesting a brochure, leading to hundreds of enquiries.
Why did this page do so well?
It thought about people like Caroline and what she would need the page to do.
It's easier on the eye – there's no clutter, no menu navigation and no sidebar. In other words there is nothing to distract Caroline. The copy is kept simple and focuses 100% on the conversion – in this case getting someone to sign up to receive a brochure.
A powerful headline – Caroline will know that this page is what she is looking for straight away, so she'll be more likely to engage with the rest of the content on the page.
Clear call to action – We know that if Caroline is searching for a holiday, that once she's found the information she requires, she'll want to find out more and to book. By putting the form high up on the page and making it as clear and simple as possible, it makes it easy for Caroline to do once she's ready.
Benefit focussed – All of the copy focuses on the benefits of staying at Kerry Farm.
Relevant copy – Littered throughout the copy are the words and language Caroline will be expecting to see. Phrases like "Kerry Farm offers you a peaceful and accessible holiday" and "We understand the challenges that come with autism".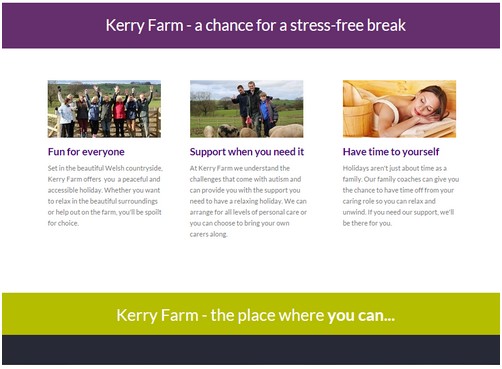 What made the biggest difference?
Testing, testing and more testing. We initially created a landing page with several different variations. Each landing page variation only changed one thing.
We created six different versions of the page, making sure to only change one element at a time.
Version 2 changed the headline.

Version 3 changed the image.

Version 4 changed the form.

Version 5 changed the submit button.

Version 6 used a video instead of an image.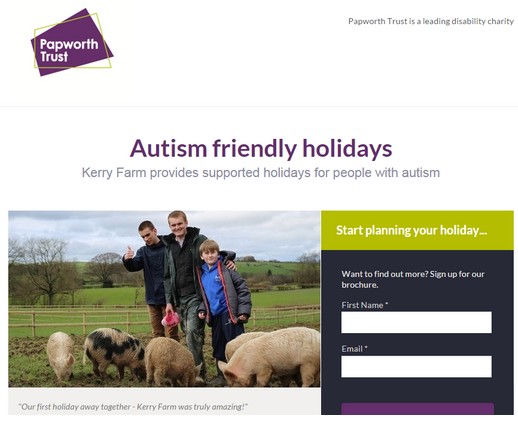 We then sent equal amounts of traffic to each of the landing pages and then looked at which page resulted in the best conversion rate.

After running these tests, we then turned off the lower performing pages and focused on sending traffic to the page which converted the highest.
Papworth Trust could then start sending other forms of paid traffic to this page knowing it had a good conversion rate. Since setting up these new pages Kerry Farm has had nearly 1000 enquiries which is great news for Papworth Trust.
"We're a pan-disability charity so one of our biggest challenges is that we're often speaking to lots of different audiences at once.
Platypus Digital's work was so valuable. They helped us separate out our messaging which lead to great conversion rates. We also now know more about each visitor and their online searches so we can keep our future communications relevant." Helen Dye, Online Marketing Executive at Papworth Trust.
Questions?
Email us to find out more about this project or how we could help you achieve something along the same lines.