How Platypus helped Concern Worldwide launch an emergency Ukraine appeal
Normally you plan charity campaigns well in advance. You align diaries with your colleagues, you take any upcoming awareness days or other activity into account, you agree dates for your big campaign. 
But if you're a certain kind of charity, you get no notice that your campaign is launching.
This is the case for charities running emergency appeals to respond to disasters. Charities like Concern Worldwide UK, who asked us to set up an emergency donation appeal via Meta Ads after the escalation of conflict in Ukraine.
We have a long standing relationship with the team at Concern. So they trusted us to run this emergency appeal for them quickly, setting everything up to raise the most money possible.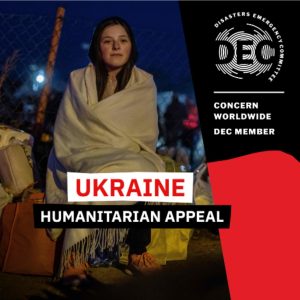 The conflict escalated on 24 February 2022. Concern briefed the appeal to Platypus shortly afterwards, and we launched the campaign very quickly after that.
Our usual Meta campaigns involve competitor research, audience planning, and a detailed campaign strategy as part of the planning process.
We agreed with Concern to move some of those stages to the middle of the campaign, so we could get up and running much sooner.
So we got to work:
We planned the audiences that would be most likely to respond to the appeal
We got a suite of ad content together
We launched the campaign and optimised every day the campaign was live.
This campaign was a success, achieving a return on ad spend over 1.0.
Optimisation was a challenge due to low cookie opt-ins. So it's likely that there were many more results than we were able to report on via the Meta platform.
We got more results than just the money we raised:
Most of the donations came from donors who were new to Concern as a charity to support. So Concern now has a new group of donors that they can steward into becoming regular givers, to support the charity in other ways, and join them in their mission to end extreme poverty.
We refined our emergency processes even further. So we were able to go live with the next emergency campaign (for Pakistan) in less than 24 hours.
We gained a deeper insight into audience groups that work well for Concern. We applied this insight into the next emergency appeal.
How Platypus helped Mental Health Foundation to increase organic search traffic by 116%
How Platypus Helped Barnardo's increase their website's organic traffic
How Platypus helped Mencap to improve the reliability of their marketing data
Find out how we can help your cause
If you would like to learn more about how we can help your cause or you have a general query, please get in touch using the contact form below and we will get back to you as soon as possible.
"I've worked with the Platypus team multiple times. They're the agency we always go back to because of their broad range of skills, consistently great team, good sense and pragmatism and the fact that hey are always a joy to work with."
Lynn Roberts
Assistant Director - Digital & Innovation, Action for Children
"We have worked with Platypus on a number of big projects; from understanding what Parkinson's UK needs from a Digital Fundraising team to developing Data Studio dashboards that our teams can work with on a daily basis. It is great to work with an agency who 'get us' and can help us with such a wide variety of digital projects in such a knowledgeable way."
Emily Sturdy
Digital Supporter Engagement Lead, Parkinson's UK
"In a sometimes confusing and murky digital world, the guys at Platypus are a breath of fresh air. They know their stuff, they tell us it straight and really care about the work we do together. There's a true sense of partnership between the Sightsavers and Platypus teams, which makes working together more productive and more enjoyable."
Ella Pierce
Head of Digital Fundraising, Sightsavers
"Platypus are an awesome agency to work with - their expertise of PPC is fantastic and they have transformed our Google Grants account. Huge thanks to the amazing Nikki for being such a patient and knowledgeable trainer."
Imogen Proctor
Digital Marketing Executive, Teenage Cancer Trust
So fab to hear that Platypus are as good as I thought they were. Feedback from the team was that they were a "dream to work with" on our Christmas campaign, "Understand and totally got us." Thanks guys, you've helped a lot of children with cancer with your genius.
Kate Lee
CEO, Clic Sargent