The quality of your content is a key factor in determining its effectiveness at ranking for relevant keywords, and driving organic traffic. 
We always encourage charities to create good quality, helpful content, rather than "SEO content". If you make content just to rank for more keywords, the content is unlikely to be serving the needs of the reader.
Why is content important?
Content is one of the three key pillars of SEO, alongside a strong technical foundation and a quality backlink profile. 
Content should answer users' questions. It's how websites serve user intent and drive relevant traffic.
But why is your content important? 
As a charity, your organisation is likely one of, if not the authority in your area of work. The information and insights you provide matter. 
Your charity probably has a number of internal experts and support providers. These experts can only speak to so many people a day in person and on the phone. 
But your website content is available year-round, 24/7. So by making sure you build content around the insight and expertise of your internal experts, you're able to help far more people each day.
Your website plays a key role in driving conversions too. Content is crucial along the entire website funnel, from driving awareness of your cause and getting people interested in your charity, to instilling confidence in potential donors that the work you do has an impact. Not having quality content on your site stops that from happening.
How to create quality content
The good news is that making great content is a well-defined process. Those doing it best involve multiple relevant stakeholders from around the charity. 
Here's our process for creating great content:
Get all your relevant stakeholders of the content process together. Everyone from directors to support workers and service providers. 
Book a collaborative session. Talk about all the possible areas of content that you think matter for your audience.
Look at external sources of inspiration –  social media groups, and forums like Reddit and Quora. Look at the content your competitors are making.
Get everything down on Jamboard, Miro or a real-life whiteboard.
You've brainstormed ideas – now validate them with keyword research to see if they match what people are searching for.
Do this with a paid or free keyword research tool.
Use a paid tool like Ahrefs, SEMrush and Moz.
Or try free tools like Google Keyword Planner, Ubbersuggest, and Keyword Surfer.
Use these tools to understand which content ideas have the greatest search volumes, and what subtopics people are interested in.
Now you've got some validated content topics!
Next, add them into a content calendar so you've got a structured approach to content production.
Don't just put the highest search volume topics first. Consider:
What the most relevant/essential topics for your charity are
The importance of seasonality or current events on the engagement with a topic
How a topic might play into your wider digital strategy
How competitive the current search landscape is for the topic
When building content, always aim to provide users with the best possible answer to their question. 
Make the content detailed and use unique expert insight from people within your charity (the experts).
Structure your content clearly using heading tags. For example, each page should have:
H1 heading to introduce what the article is about

Then H2 headings to structure the rest of the content on the page 

Then H3 headings under the H2 headings as subheadings
For example, a page covering the symptoms of a disease should be structured like this: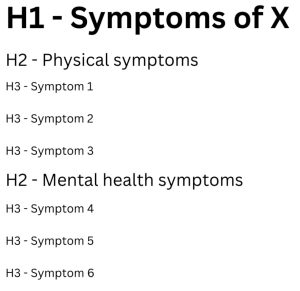 Your keyword research can help guide the structure of your content. The keyword research will show what the main topics and subtopics users are looking for from your content. Each heading and subheading should relate to these topics and subtopics identified from the keyword research.
Keep readability in mind when creating your content. The average reading age in the UK is roughly that of a 9 year old. So it's important to write your content in plain English and using shorter sentences – doing this makes it accessible to more people.
Use free tools like the Hemingway Editor to check your content readability
Where possible, publish related content at roughly the same time. 
Make sure to link relevant content articles using internal linking.
Also make sure to leverage your new content on other digital channels, like social media and email marketing.
SEO is a long game. But you can see almost immediate results from publishing new content.
Either way, assess the performance of your content over time. I like to check in on performance after one month, three months, six months and then one year. This gives my content all the time it needs to bed in and perform well.
Don't just look at overall organic traffic levels either. Remember the purpose of your content and assess relevant metrics, for example: 
Is the article an awareness piece aiming to inform and educate? Look at engagement metrics such as the average time on page and bounce rate to make sure users are engaging with and reading the content.

If it's a more transactional page such as a donation page, look at the number of conversions and the conversion rate over time.
The content process for your charity website should be a cycle. After you've created, published and measured your content, you should review what next steps to take.
If the content is performing as well as or better than expected, then great! Capitalise on this strong position and develop supporting content to capture even more relevant traffic.
If it's not quite performing as well as you'd hoped, look to optimise that content. Carry out further keyword research and competitor analysis to make sure it's really providing the most helpful results for your audience.
Our free content production template
We've put together a content production template including all of these steps outlined above. You can download your free copy here (click 'Make a copy' to get your own version).
Content is fundamental to SEO. 
The best content comes from bringing relevant stakeholders together. Keep your audience's goals and needs in mind when creating your content, and use the insights of experts within your charity who talk to your audience daily.
Our content production process won't just generate great organic traffic, it will get you content that meets your charity's objectives and genuinely helps people.
Got any questions? We can help you create quality content for your charity's website – just get in touch with us here.