Qurbani is the second biggest event in the Muslim calendar, making it Islamic Relief UK's second-largest fundraising opportunity of the year, after Ramadan.
Islamic Relief is already one of the most trusted, visible charities for its target audience, so our goal was to engage as many brand-aware audiences as possible. We ran a fundraising campaign for the charity in the lead up to, and during, the Islamic month of Dhul Hijjah.
The campaign had a target return on ad spend (ROAS) of 2.0 and our campaign delivered an ROAS 4 times higher, at 8.8 ROAS – an amazing result that IRUK were really happy with.
Objective
We set out to achieve a return on ad spend of 2.0. We knew that this was going to be a really competitive time to advertise, so we needed to be smart about our ask and to get the timing right.
Thankfully, Islamic Relief UK had a lot to work with. They have a long history of delivering aid products like food, water and conflict alleviation.
What we did
We've worked with IRUK for a few years, and we've worked on Islamic appeals even longer than that. Our team are experts in giving sentiment around Ramadan and Qurbani, and our deep understanding of Muslim giving means we know why people are motivated to give, how to communicate the work, and how to make it stand out from the sea of ads.
Combined with our knowledge of the giving sector more generally, we were able to give really valuable support in setting up appeal campaigns and pages to ensure the most seamless donation journey possible.
Using our knowledge of previous donors and supporters, as well as our rigorous process of audience and market research, we built groups of audiences around interests that might have a high affinity, but also were easier to compete for.
Then we built sub-campaigns containing ads for different products, featuring images and copy for specific causes. We used messaging that built on the trust Islamic Relief already has in its target audiences, reminding people of the connections they have with their religion, and why IRUK is a great charity to donate to.
Once the ads were live, we monitored them every day. Our deep knowledge of Facebook's algorithms, media buying and planning theory, and Islamic giving meant that we were able to continue tweaking, expanding the campaign and trying new products until we honed in on the most successful angles and asks.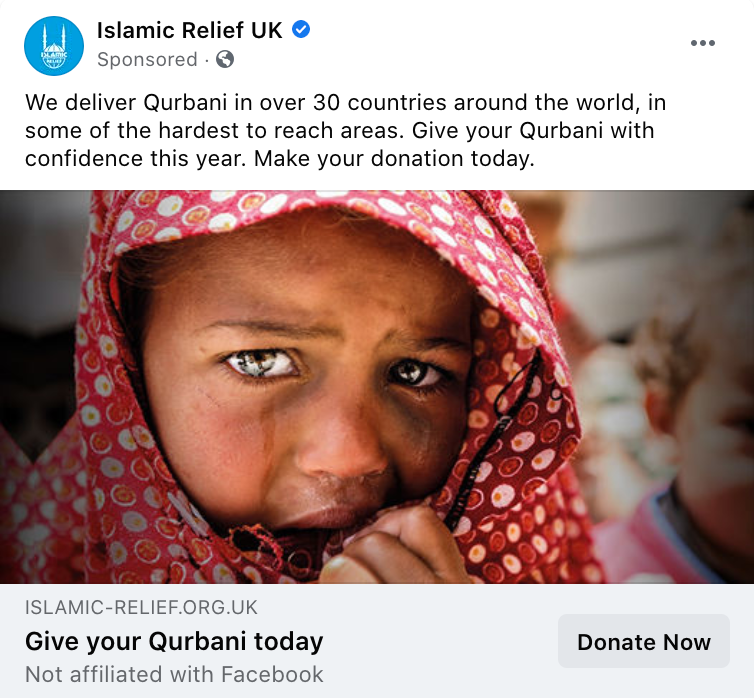 The results
The campaign was a huge success, and we were successful at raising over four times more than we were projected to achieve.
It benefited our long-term work with IRUK, too. Just as our previous work with them informed this campaign, we were able to take our learnings through to future campaigns to achieve similar results elsewhere, too.
IRUK were delighted with the outcome of this campaign and the valuable funds it raised to support the charity's lifesaving work.
We went on to build on the success of the campaign by using the most effective audiences in other campaigns we delivered for IRUK throughout 2020.
IRUK were delighted with the outcome of this campaign and the valuable funds it raised to support the charity's lifesaving work.