10-second summary
Safe Passage is a charity helping young, unaccompanied refugees arrive safely in Europe.
Safe Passage had a goal of driving new supporters to their list, who they could ask to take action later on or to donate to the cause.
We added 12,500 people to their list in seven months through a range of campaigns and asks.
What was the challenge?
Safe Passage wanted to engage and acquire high-quality supporters, and steward them to become highly engaged, ready to take action and donate.
They wanted a steady stream of supporters joining their email list. They also wanted to maximise the opportunity to mobilise supporters in key media moments.
What did we do?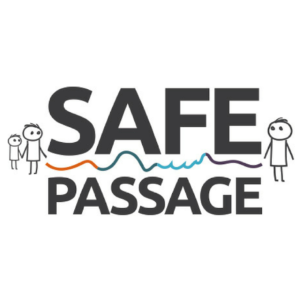 We worked with Safe Passage to develop and launch an always-on campaign, which would form the backbone of our acquisition work throughout the year.
We planned our proactive campaigns around key moments on the political agenda, as well as reactive, urgent response campaigns in between.
The key media moments included:
The introduction of the Nationality and Borders Bill
The regime change in Afghanistan
The channel crossings tragedy
We did this in the following stages:
Campaign strategy – we developed a detailed campaign plan to acquire supporters via lead generation campaigns and automatically add them to Safe Passage's list. Where they were then welcomed to the charity via Safe Passage's onboarding email program.
Audience planning – we planned cold, warm and lukewarm audiences on Facebook. We based this on our knowledge of Safe Passage's competition and prior experience of developing audiences that not only convert but go on to donate.
Content creation – we worked with Safe Passage to make the creative compelling and impacting, using a variety of messaging so they could test and learn, feeding back data from the campaign to help them build out and create engaging content. We focused on the current political landscape at the time of the campaign and created compelling ads such as the one featured below.
Optimisation – our Meta Ads team optimised audiences, ads and budgets daily. Our granular approach to optimisation meant we were able to respond to changes in the ad environment quickly. This meant deploying new audiences, changing up or honing in on creative angles, or pivoting quickly to changes in the political landscape. We were able to tap into the media focus on highly impacting topics such as the high volume of refugee deaths during channel crossings, to highlight the express need for donor support.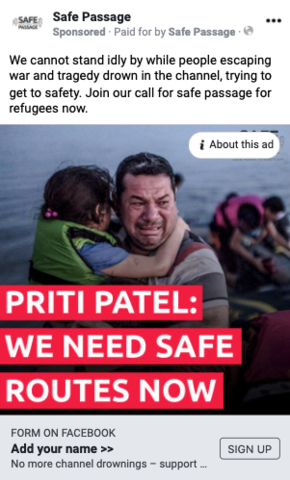 What did we achieve?
We acquired 12,500 leads over four campaigns.
We were able to sustain interest across a long period of time and test different angles and asks, that warm supporters might be motivated by. We've been able to supply Safe Passage with really solid learnings about audiences and approaches that resonate with them.
The leads are showing strong engagement rates on Safe Passages's email list, despite being new to the charity. They're actively interested in Safe Passage's communications, have low immediate unsubscribe rates, and their early donation activity is a good sign for the future.
Safe Passage will continue to monitor and measure their activity to see what kind of value they deliver over time.
"Working with Platypus was a great experience for all of us at Safe Passage," said a very pleased Henry Compson, digital campaigns and fundraising manager at Safe Passage.
They were quick to answer any questions I had and were of huge support in helping us increase our email list. During the Afghan refugee crisis, they went above and beyond what I'd expect from a digital agency to help us get new ads online – it really felt like they were part of the team."