We have worked with Young Lives vs Cancer (formerly CLIC Sargent) on a retained basis since April 2020.
We work with the individual giving team to help bring in more donors via Facebook and Instagram Ads.
Our campaigns have raised over £119,000 for the charity.
The challenge
Young Lives vs Cancer wanted to diversify their income streams.
Many donors want to donate specifically to charities that work with young people. But Young Lives vs Cancer were better known for community and challenge fundraising. So raising money via single gifts was more challenging for the individual giving team.
The team asked us to help them increase the volume of cash donations made on their website.
What we did
First, we worked with the Young Lives team to identify return on ad spend (ROAS) objectives for the team.
We then got to work creating an advertising and audience strategy for Facebook and Instagram Ad campaigns that could meet those objectives.
And, with the work still happening today, we regularly:
revisit the strategy to make sure it is still effective
plan Facebook ads content with the IG team, based on their calendar of activity, plus any opportunities we spot
refresh content to make sure audiences don't see the same adverts all the time
review what makes donors give (and what doesn't)
run at least one test, based on what the IG team want to test, plus our own suggestions
hold results calls to update the team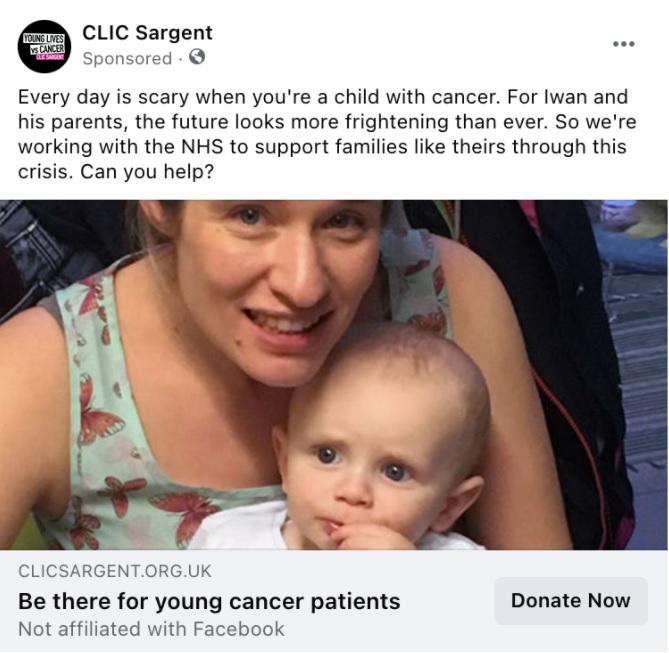 Results
We have raised over £119,000 in cash donations so far for Young Lives vs Cancer.
We've raised even more in regular gifts, not to mention from campaigns we run through Google Ads for the charity.
Cecile Laurent – at the time, head of supporter giving and marketing at Young Lives vs Cancer – was stoked:
"Working with Platypus, we have been able to systematically test and learn Young Lives vs Cancer's approach to social media advertising, defining the type of imagery, content and call to action that resonate with audiences. Now we have 'cracked' cash donations, we are turning to regular giver acquisition, and look forward to great results from that activity too!"