10-second summary
We've worked with Versus Arthritis as their retained PPC agency since 2020.
They brought us in to manage their paid search activity and increase donation revenue.
We created an always-on approach to promote their services to support people with arthritis and drive donations.
This led to a 300% rise in non-branded donations and 2,500% rise in revenue as a result of donation intent paid search activity.
What was the challenge?
Versus Arthritis weren't at the very start of their paid search journey. They had a Google Ad Grants account and paid Google Ads account, with campaigns set up on both.
But they weren't achieving their objective of increasing donations. The accounts also weren't structured in a way that made good use of their ad spend, leading to inefficiencies and lower amounts raised.
What's more, people searching on Google for arthritis support weren't finding the charity's services, including their telephone helpline, an innovative chatbot and a movement programme called Let's Move.
When they appointed us as their retained paid search agency in May 2020, our challenge was to provide an approach that would:
maximise their return on ad spend
increased donations (including from cold audiences)
get their arthritis support in front of the people who were searching for it.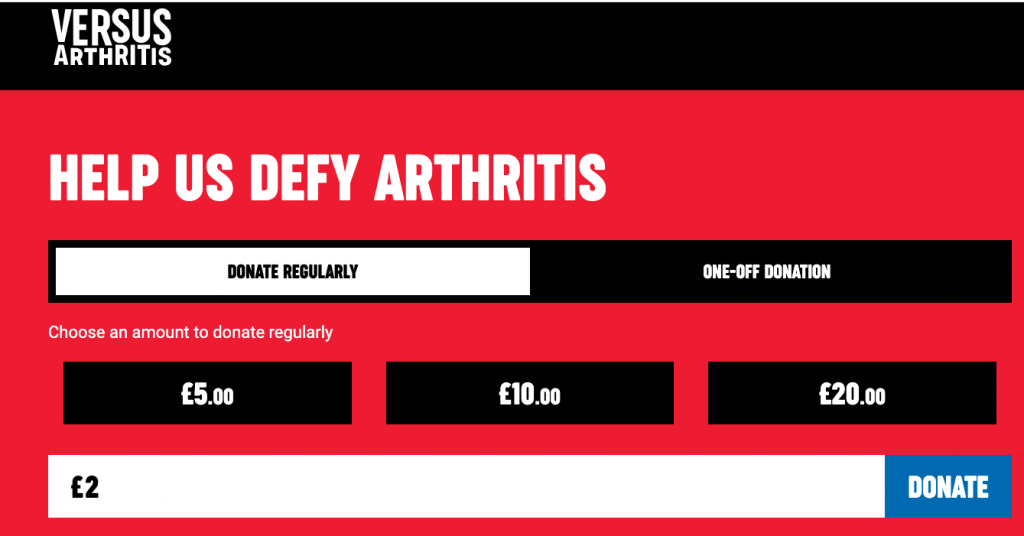 What did we do?
To begin with, we totally restructured their paid search activity to use the Google Ad Grant account in a much more effective way.
We improved the quality of their Ad Grants campaigns and created new campaigns that drove more traffic to the right sections of the Versus Arthritis website. Creating these campaigns in their Ad Grants account instead of their paid Google Ads account meant the ad spend was free, saving them valuable marketing spend.
We then launched always-on paid activity to tap into existing donation intent and drive income. As part of this we made improvements to their donation landing pages which aimed to increase income not just from paid search but from all traffic sources.
Finally, we planned, launched and optimised paid search and display campaigns to promote their helpline and drive phone calls from people who really needed that one-to-one support.
What we achieved
Our donation intent paid search activity led to a 300% rise in non-branded donations and a 2,500% rise in revenue, clearly meeting the charity's goal of increasing donations from paid search.
We're now driving an average of 16 calls to the helpline per month from people the charity can connect with and support who might otherwise have missed out.
Finally, by making more effective use of the charity's Google Ad Grants account we also reduced their ad spend by 66%.
Kim Watson, Head of marketing (interim) at Versus Arthritis, said, "Platypus Digital is the best search marketing agency I've worked with in over 20 years. You'd think that the bigger the agency, the deeper the expertise. But in my experience, no other agency has the level of paid search knowledge than they do. They've helped us raise many thousands of pounds to help defy arthritis, and are an absolute joy to work with."
Karina Brisby, head of digital at Versus Arthritis was also kind enough to reshare our post on LinkedIn and added these kind words: