How Platypus helped Versus Arthritis increase non-branded donations by 300% using paid search
We've worked with Versus Arthritis as their retained PPC agency since 2020.
They brought us in to manage their paid search activity and increase donation revenue. 
We created an always-on approach to promote their services to support people with arthritis and drive donations. 
This led to a 300% rise in non-branded donations and 2,500% rise in revenue as a result of donation intent paid search activity.
Versus Arthritis weren't at the very start of their paid search journey. They had a Google Ad Grants account and paid Google Ads account, with campaigns set up on both.
But they weren't achieving their objective of increasing donations. The accounts also weren't structured in a way that made good use of their ad spend, leading to inefficiencies and lower amounts raised. 
What's more, people searching on Google for arthritis support weren't finding the charity's services, including their telephone helpline, an innovative chatbot and a movement programme called Let's Move. 
When they appointed us as their retained paid search agency in May 2020, our challenge was to provide an approach that would:
maximise their return on ad spend
increased donations (including from cold audiences)
get their arthritis support in front of the people who were searching for it.
To begin with, we totally restructured their paid search activity to use the Google Ad Grant account in a much more effective way. 
We improved the quality of their Ad Grants campaigns and created new campaigns that drove more traffic to the right sections of the Versus Arthritis website. Creating these campaigns in their Ad Grants account instead of their paid Google Ads account meant the ad spend was free, saving them valuable marketing spend.
We then launched always-on paid activity to tap into existing donation intent and drive income. As part of this we made improvements to their donation landing pages which aimed to increase income not just from paid search but from all traffic sources. 
Finally, we planned, launched and optimised paid search and display campaigns to promote their helpline and drive phone calls from people who really needed that one-to-one support.
What we achieved
Our donation intent paid search activity led to a 300% rise in non-branded donations and a 2,500% rise in revenue, clearly meeting the charity's goal of increasing donations from paid search.
We're now driving an average of 16 calls to the helpline per month from people the charity can connect with and support who might otherwise have missed out. 
Finally, by making more effective use of the charity's Google Ad Grants account we also reduced their ad spend by 66%. 
Kim Watson, Head of marketing (interim) at Versus Arthritis, said, "Platypus Digital is the best search marketing agency I've worked with in over 20 years. You'd think that the bigger the agency, the deeper the expertise. But in my experience, no other agency has the level of paid search knowledge than they do. They've helped us raise many thousands of pounds to help defy arthritis, and are an absolute joy to work with." 
Karina Brisby, head of digital at Versus Arthritis was also kind enough to reshare our post on LinkedIn and added these kind words: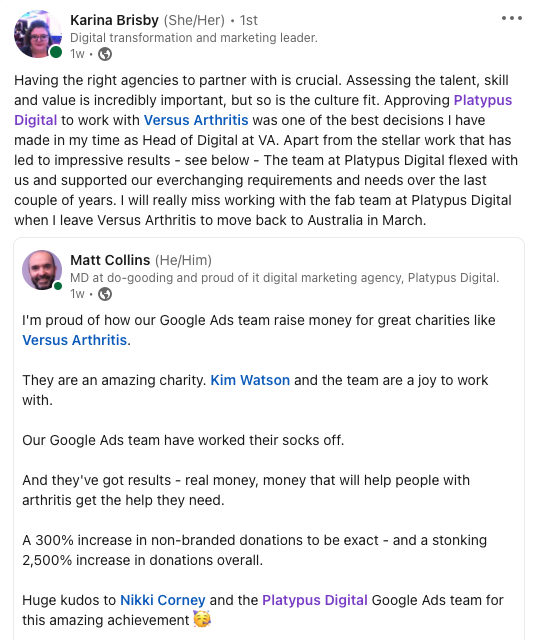 How Platypus helped Haven House Children's Hospice develop a supporter-centric approach to digital fundraising
How Platypus helped Royal Marsden Cancer Charity plan a digital skills development programme​
How Platypus helped Battersea remodel their digital fundraising strategy to boost online income
Find out how we can help your cause
If you would like to learn more about how we can help your cause or you have a general query, please get in touch using the contact form below and we will get back to you as soon as possible.
"I've worked with the Platypus team multiple times. They're the agency we always go back to because of their broad range of skills, consistently great team, good sense and pragmatism and the fact that hey are always a joy to work with."
Lynn Roberts
Assistant Director - Digital & Innovation, Action for Children
"We have worked with Platypus on a number of big projects; from understanding what Parkinson's UK needs from a Digital Fundraising team to developing Data Studio dashboards that our teams can work with on a daily basis. It is great to work with an agency who 'get us' and can help us with such a wide variety of digital projects in such a knowledgeable way."
Emily Sturdy
Digital Supporter Engagement Lead, Parkinson's UK
"In a sometimes confusing and murky digital world, the guys at Platypus are a breath of fresh air. They know their stuff, they tell us it straight and really care about the work we do together. There's a true sense of partnership between the Sightsavers and Platypus teams, which makes working together more productive and more enjoyable."
Ella Pierce
Head of Digital Fundraising, Sightsavers
"Platypus are an awesome agency to work with - their expertise of PPC is fantastic and they have transformed our Google Grants account. Huge thanks to the amazing Nikki for being such a patient and knowledgeable trainer."
Imogen Proctor
Digital Marketing Executive, Teenage Cancer Trust
So fab to hear that Platypus are as good as I thought they were. Feedback from the team was that they were a "dream to work with" on our Christmas campaign, "Understand and totally got us." Thanks guys, you've helped a lot of children with cancer with your genius.
Kate Lee
CEO, Clic Sargent