10-second summary
Mental Health Foundation (MHF) works to prevent mental health problems, helping people understand, protect and sustain their mental health.
MHF benefit from a big increase in traffic during Mental Health Awareness Week which they have hosted for 21 years. They wanted to use this to recruit long-term donors to support their work
Our campaign exceeded all targets, generating over 9,000 leads at one-third of the target cost and delivering above-average annual donations
What was the challenge?
Mental Health Awareness Week (MHAW) is an annual event when there is an opportunity for the whole of the UK to focus on achieving good mental health. MHF started the event 21 years ago. Each year MHF continues to set the theme, organise and host the week. The event has grown to become one of the biggest awareness weeks across the UK and globally.
The week leads to a huge spike in awareness of MHF's work, and engages with people who want to improve their own mental health and that of their family and friends.
MHF wanted to know how they could capitalise on this interest to recruit long term donors to support its work.
What did we do?
We have a long-standing working relationship with the team at MHF. So we had detailed insights into their most responsive audiences and the content that resonates best with them.
We drew on this knowledge and proposed a Facebook lead generation ad campaign to deliver during MHAW
We did this in the following stages:
Campaign strategy – our campaign promoted a free mental health awareness pin badge in exchange for mobile phone numbers (which their telemarketing agency would use to promote their regular giving offer)

Audience planning – we planned cold, warm and lukewarm audiences on Facebook, all selected to keep cost per lead down and response rate on the phones high 

Content creation – we used illustrated and photographic images to create a suite of ads that the audiences were likely to respond to 

Optimisation – our paid social team optimised the audiences, ads and budgets daily to make the most of MHF's ad spend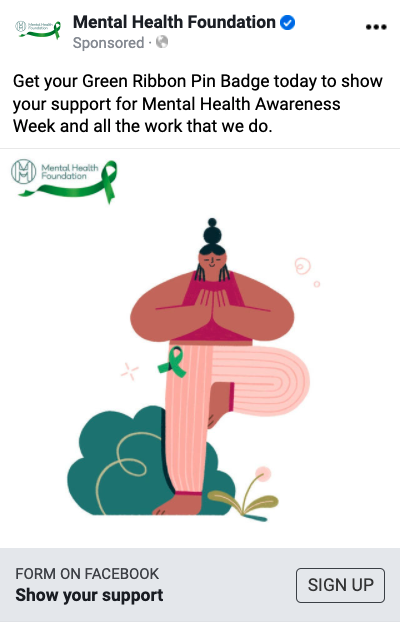 What we achieved
The response to the adverts was huge. We exceeded all targets set at the start of the campaign, and delivered:
Large lead volume – we delivered over 9,000 phone numbers of potential donors to the charity's telemarketing agency.




Low cost per lead – the cost to MHF of each lead was one third of the target, allowing them to contact far more supporters than planned




High average gift – supporters gave an above average annual gift 




High Gift Aid opt in – opt-in rates for Gift Aid were also high.
We also ran a follow-up campaign to people who had seen but not responded to the campaign. This led to hundreds of new email subscribers who will be open to future asks from the individual giving, legacy and community events teams.
We also built an email journey for people who had signed up but weren't reachable, offering them another route to getting the pin badge. This increased engagement with the charity and added many new supporters for future activity.
We have subsequently run the same campaign for MHAW in 2021.
We generated 5,626 leads in the campaign, 853 more than target and at a cost per lead 15% lower than our target.
"The team at Platypus have been a valued extension of our digital communications team. They take the time to understand our needs, recommend the best way to maximise response and then continue to tweak our campaigns to make the most of every pound we are spending. They are responsive and flexible to solving any issues that may arise – which are rare!"
Sarah Tite, Director of Fundraising and Communications, Mental Health Foundation