10-second summary
Mental Health Foundation

's (MHF) work to prevent mental health problems, helping people understand, protect and sustain their mental health.




MHF was benefitting from occasional legacy pledges, but had no insights into who was leaving pledges in their will or how they could increase legacy fundraising




We created a legacy pledge acquisition campaign ended on an

ROI of 30:1,

absolutely smashing the target

What was the challenge?
MHF get a number of legacy pledges each year from people leaving them gifts in their will.
This was very welcome of course, but they were mostly from people not known to the charity. They had no insights into who was leaving these pledges, or how they could get more.
They saw the size of the fundraising opportunity open to them if they took a more proactive approach to legacy marketing. But they had never done it before.
We had previously helped MHF acquire regular givers via digital campaigns. So, we suggested a legacy digital marketing campaign to see if the legacy team could benefit from that same digital fundraising success.

What did we do?
We drew on our success in creating partnerships with complementary agencies and selected Farewill as the online legacy provider, undertaking a due diligence review to ensure it would be an effective partnership.
First, we planned a paid Meta Ads campaign offering interest and activity audiences the chance to make a will online, free of charge.
We would then further narrow down this group to those people most likely to convert, using a tightly targeted approach to get only the most promising prospects.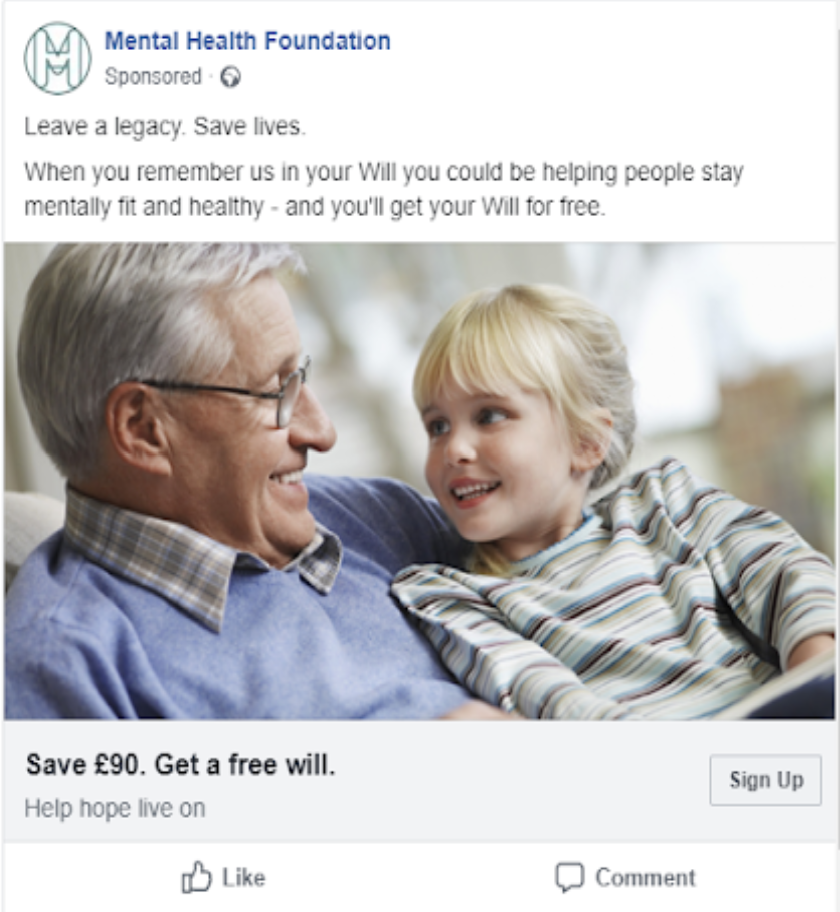 We then:
created the Facebook ad content, selecting the most engaging images and writing copy that encouraged a response
set up the ads in the Facebook Ads platform
carried out daily optimisation to keep cost per lead low and volume of leads high

We also provided weekly calls and monthly reports to MHF, as well as a final end of campaign report.

The final report gave the team way more detailed insights, including insights on which did best between illustrated and photographed images, warm versus cold audiences and the age breakdown of leads.

What we achieved
MHF set a target of positive ROI for the campaign. We ended up getting a high number of people leaving pledges in their will for Mental Health Foundation, returning an ROI of 30:1.
The charity were delighted with the outcome and are planning more proactive legacy acquisition campaigns.
"Platypus really took the time to understand our needs, recommending the best way to maximise response and then continued to tweak our campaigns to make the most of every pound we are spending. They are responsive and flexible to solving any issues that may arise – which are rare!"
Sarah Tite, Director of Fundraising, Mental Health Foundation