---
Yesterday, we held the very first online version of Social CEOs, the social media and digital awards that we co-founded and run. 
The COVID pandemic has taken all events awards online. So we grabbed the opportunity to do something a bit different this year, and do the awards entirely digitally.
You can check out all the winners here if you're interested, and read co-founder Zoe Amar's piece for Civil Society.
Here's what we did.
We replanned for an online only event
We started by planning what the online awards looked like. 
A lot of it was the same – marketing and nominations were all online anyway, so no change there. 
The judging session was set up the same, but done on Zoom. That's a marathon three hour session, so chair Simon Blake sensibly mandated 10 min breaks every hour. Online meetings are exhausting in a way in person meetings aren't, so this made a difference. 
We made the awards announcement shareable by planning an online video version. We'd record ourselves against green screens, get a funky awards style background complete with sound effects and acceptance speeches. 
We'd run the event online, meaning way more people could attend than if we did it in real life. 
We created an outline for the event that was several people speaking for 5-10 mins each, rather than just one or two people dominating the whole things like most years. We're competing with other open tabs on people's computers after all.
Reached out for help
We reached out to Simon and Nikki at Fundraising Everywhere to see if they could host the event on their lovely platform. 
We'd heard great things from other events that have used that platform and wanted in.
We asked the excellent Raw London to help us bring the announcement video to life. They kindly agreed!
We also recruited an intern, Avi, to help us with the logistics of communicating with judges and nominees, and ordering trophies for the lucky winners. 
Recorded the video 
Zoe and I were way out of our comfort zone on a Tuesday afternoon. We'd bought some green screens from the internet, and spent ages getting them in exactly the right spots. 
Variable internet connection speeds were challenging too, but thanks to Ryan from Raw's excellent help, we recorded ourselves introducing the awards and the winners. 
Tried new online event things
Nikki from Fundraising Everywhere suggested we get folk to record 30 second videos saying who their favourite Social CEO is. 
I loved this! It was a great way to diversify the content and give judges a chance to big up people who weren't nominated or couldn't win (two of the people mentioned were judges so fell into this category). 
The platform itself was super entertaining and was a lot more fun than yet another Zoom meeting, with snazzy transitions and videos.
How did it go?
Judge for yourself – here's the end result of the awards video.
The advantages were being able to share the awards ceremony with a much wider audience than small venues generally allow us to do. 
And here's the after party with winners in full swing.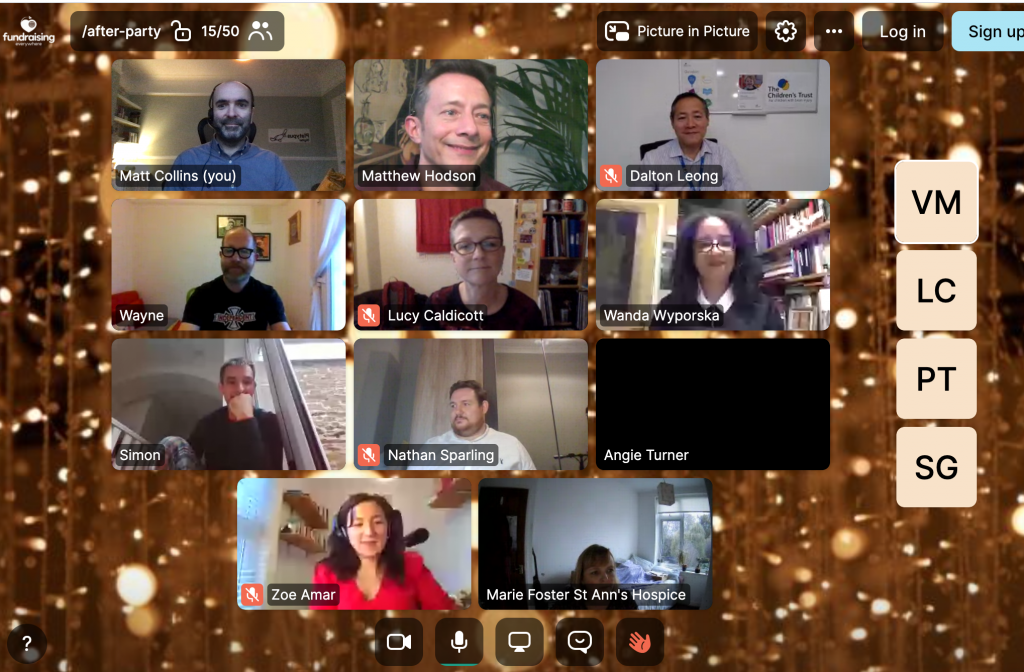 In a way, I felt more at home delivering the event online – digital is what we do after all. In person events have a way of throwing up lots of issues that you weren't expecting, from Bluetooth speakers that nobody can hear to delivery of food and drink earlier than you planned. Managing all that is a skill that is neither mine nor co-founder Zoe Amar's speciality! 
Some things were better online – razzmatazz in the form of space podiums was easier to create, and online events are more inclusive to those not able to get to London. 
We obviously love the vibe of seeing people in person, so we really missed that. But we for sure learned a lot. 
Thanks again to Fundraising Everywhere and Raw London for their help making this happen – you rock!