The most common charity Facebook Ads go straight to cash asks. 
But in a saturated market, simply shaking your proverbial donation bucket isn't going to cut it. It may actually alienate your audience.
The best charity Facebook ads that stand out in a saturated market are targeted, emotional, and creative in how they ask for money.
Here's our round-up of five of the best we've seen recently and why they work so well.
1.
Crisis
Another blog post, another shout out to Crisis' social media team. Honestly, their latest Facebook ad is blooming marvellous.
Art from Crisis is a monthly subscription. In exchange for a monthly donation, you receive artwork created by someone they support.
They begin their ad with the words 'Art can change lives – and help rebuild them. Be part of that journey'.
What a way to demonstrate the impact of your donation. It's the perfect way to appeal to art lovers and everyday people with a conscience.
Online giving options with tangible products are always popular. They extend that feel-good feeling beyond the initial gift, so it's great to see such a creative project in action.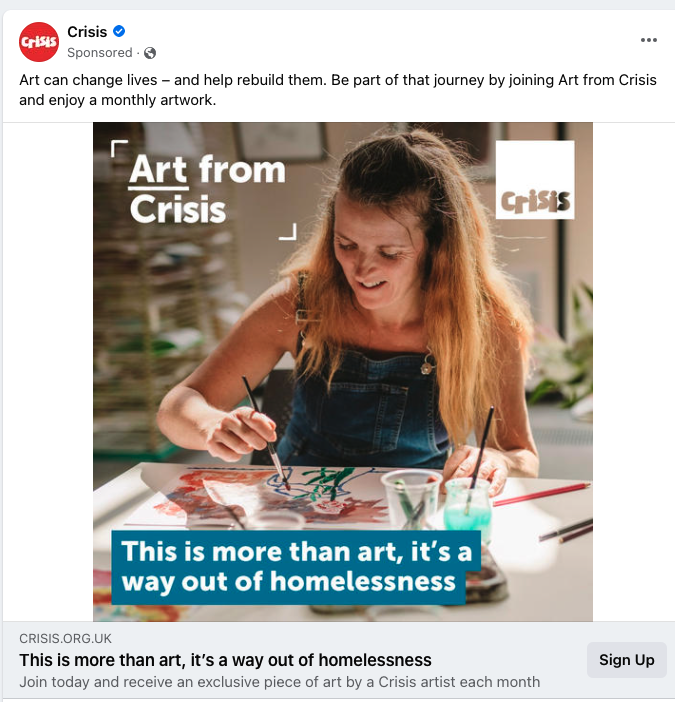 2.
WWF
If you want to learn how to use social media effectively as a nonprofit organisation, WWF is another one to watch. This particular Facebook Ad is a corker.
Their Tiger Activity Pack is a product partnership with Judith Kerr's well-loved children's book, The Tiger Came to Tea.
For a small donation, supporters can download the activity pack for preschoolers, which contains the book, stickers, and fun family activities.
It's a classic example of an engaging, entry-level fundraising activity for all the family. It makes conservation part of the conversation through play. It could quickly become a stepping stone towards their monthly donation options, like adopting a tiger.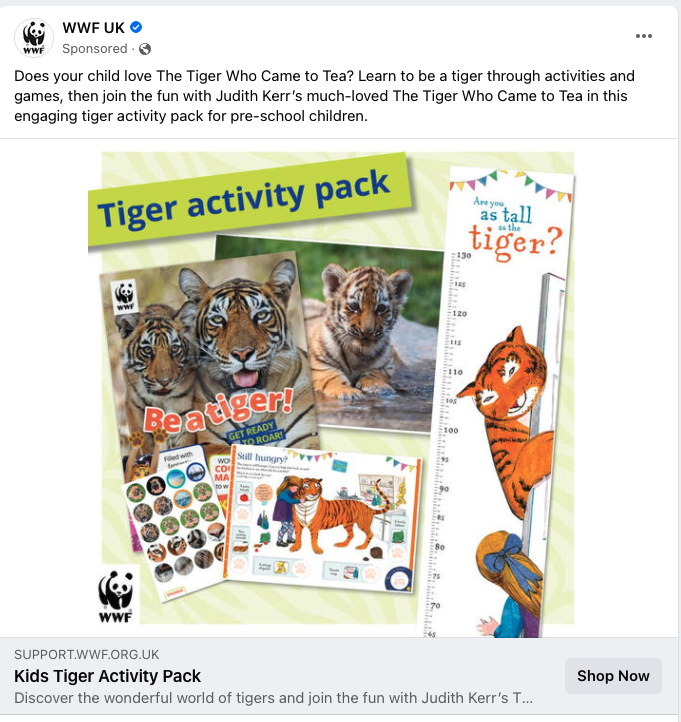 3.
The Soil Association
People love to feel they're a part of the solution – something The Soil Association clearly understands. Their message is serious, but their tone is lighthearted.
'The solution to climate change is under our feet' coupled with the image of feet in the earth is a nice touch.
Their sign-off of 'We must act now to take care of our soil. And you can help' feels hopeful and leaves the audience wanting to learn more by clicking through.
We love ads that focus on the solution. Bravo! 
4.
Trussell Trust 
The Trussell Trust is a shining example of using empathy to create an emotional reaction and spark action – using people's own words to highlight the struggles they face.
Trussell Trust's imagery of someone looking through their bills, coupled with the clear hook 'Bigger bills means I'll skip every meal today', hits home. Especially now.
'Every' implies that they were already skipping meals to make ends meet. Now circumstances have forced them to stop eating entirely.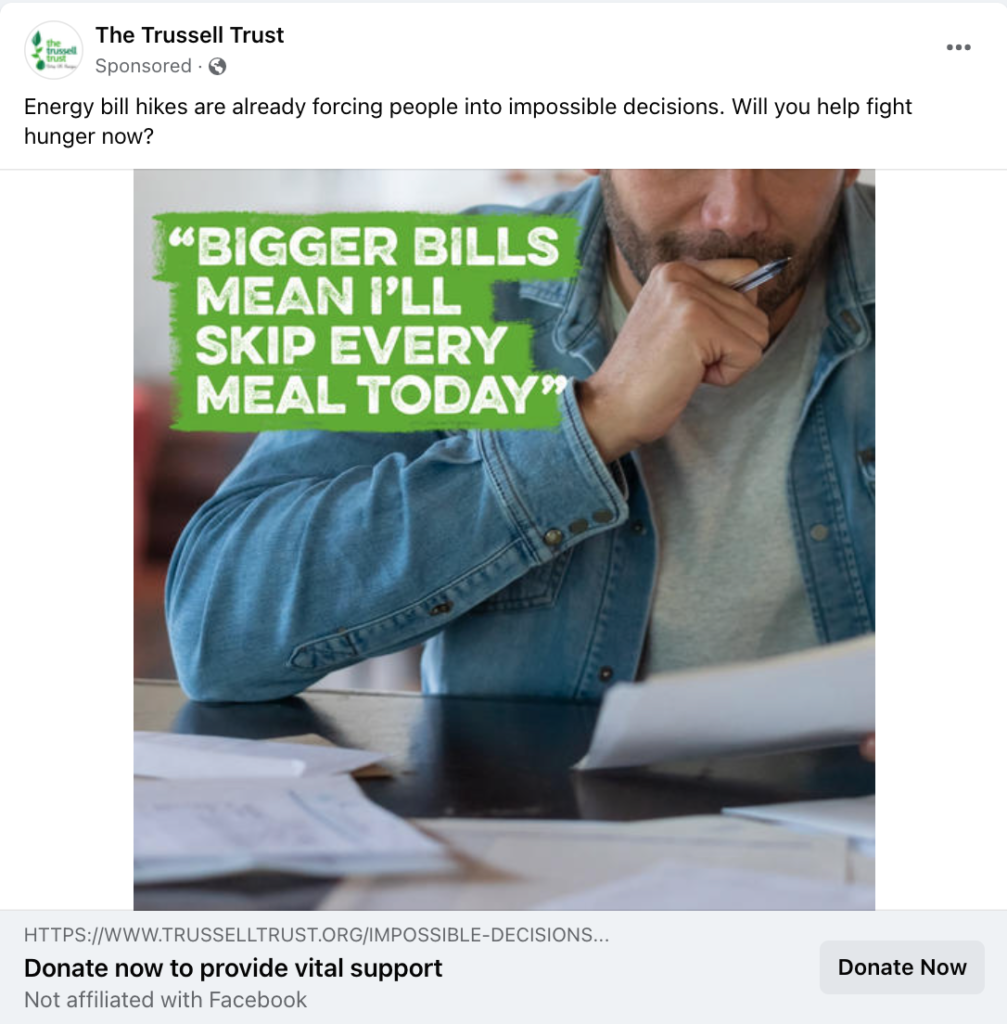 5.
Save the Children
Last but not least is Save the Children. Their charity Facebook ad promotes their Wonderbooks initiative – a monthly bedtime story subscription with storybooks based on real people promoting diversity and inclusion.
I couldn't help but smile when I saw this one. The wording is bang-on. 'Wonderbooks helps make sure children everywhere are safe, well, and happy.'
Genius. Why? Where are children safest, well-est (if that's a word), and happiest?
Snuggled up at bedtime for a bedtime story.
The ad taps into those nostalgic feelings of love, warmth, and security while alluding that that's not the case for all children. It gives donors an easy, affordable, and attractive way to help.
They get to read with their children. They experience the feel-good factor of knowing their donation is helping people less fortunate, and they're educating their children about diversity and inclusion.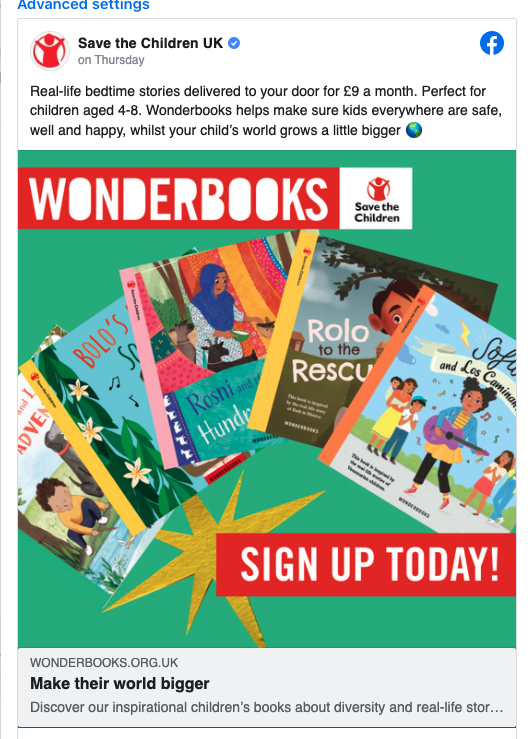 We hope you enjoyed the whistle-stop tour of our favourite charity Facebook ads and why they're fabulous.
Keep them in mind and return to our post the next time you're brainstorming your charity Facebook ad campaign.
It'll help you create something memorable that's about more than money.